Laura Griffing Langfitt is a photographer who focuses on capturing beautiful nature photos in the Northwest United States. Having the opportunity working on this project with Laura for Griffing Designs was a ton of fun, and really made me long for some mountainous exploring! Laura is unique with her photo delivery because she not only sells her photos in print format, but also offers them on various household and clothing items. She wanted a brand that felt connected to nature, but also reflective of her photography passion. One thing was for sure, Laura had to have purple in her designs and branding. You might not normally think of purple right off the bat when you imagine 'nature' or 'earthy' colors, but I love the way things came together. We even added a topographical map texture to her brand since she loves to travel to photograph nature. Check it out for yourself!
MOOD BOARD
Laura wanted a brand that was lighthearted and fun while still being artsy and classy. The colors here work really well together to give a beautiful palette that is natural but artistic as well. I pulled in images that elicit a feeling of exploring nature, but still retained the professional vibe Laura was looking for. Being a nature-lover myself, I have to say that this is one of my favorite mood boards this year!
LOGO DESIGN + BRANDING BOARD
PRINT DESIGN + WEB ITEMS
Since Laura is a photographer, we wanted to showcase her photos as much as possible with her marketing materials. We decided to create business cards with 3 alternating photos that display different nature scenes. The back of the business card remained consistent for the three designs. I love how Laura included a promotional code for her shop, right on her business card. It's always best to have some sort of incentive for the recipient to keep your business card, and this is a perfect way to do it! Laura also is active on Facebook and Twitter, so we created banner graphics to work with both social media platforms.
WEBSITE DESIGN
We created the Griffing Designs website on the Squarespace platform. I love this platform because it allows anyone to easily manage a website and online store. We customized her site to suit her brand and incorporated an online shop where customers can purchase tapestries, photo prints and more! These screenshots don't do the site justice, so make sure to visit her site over at www.griffingdesigns.com.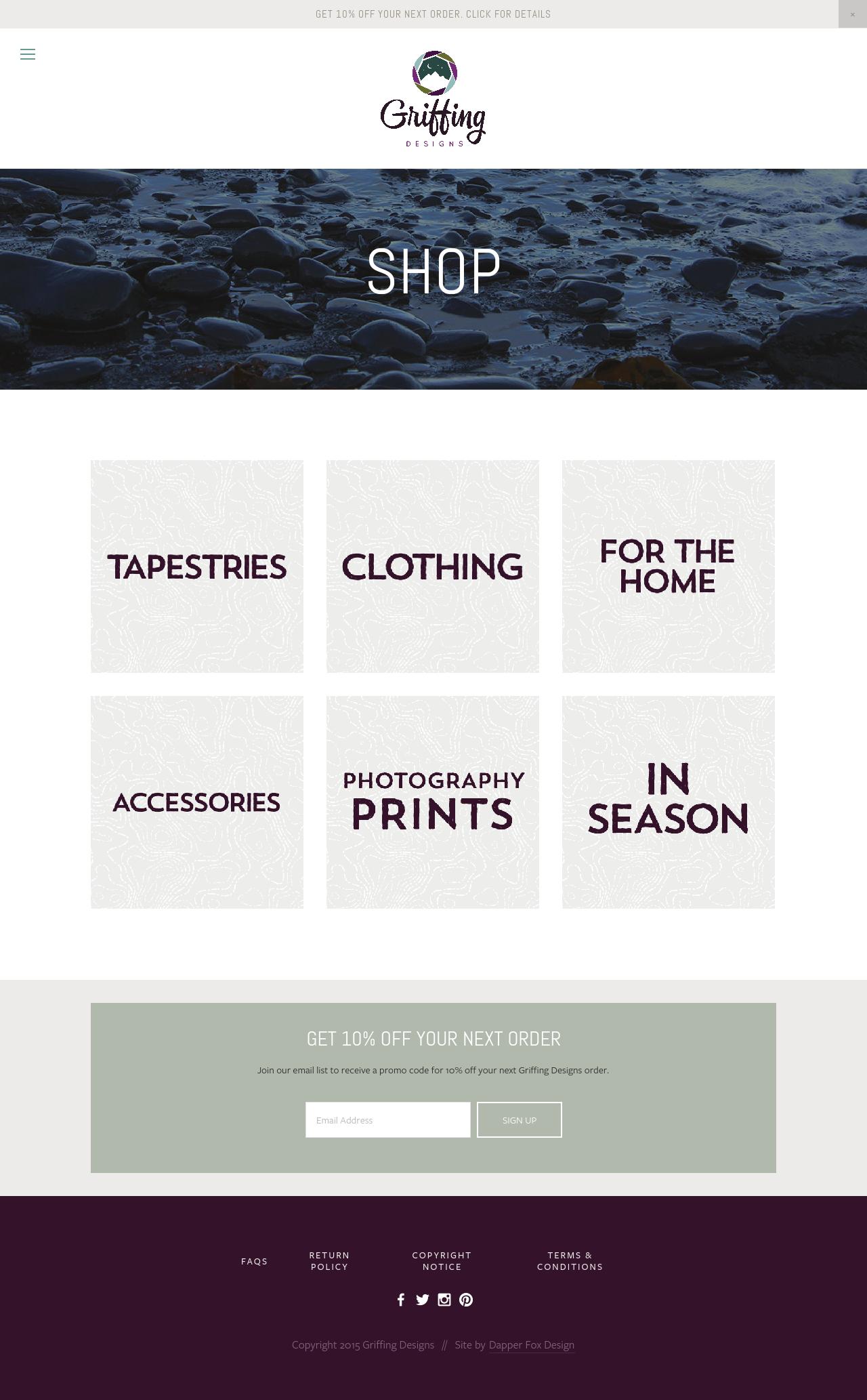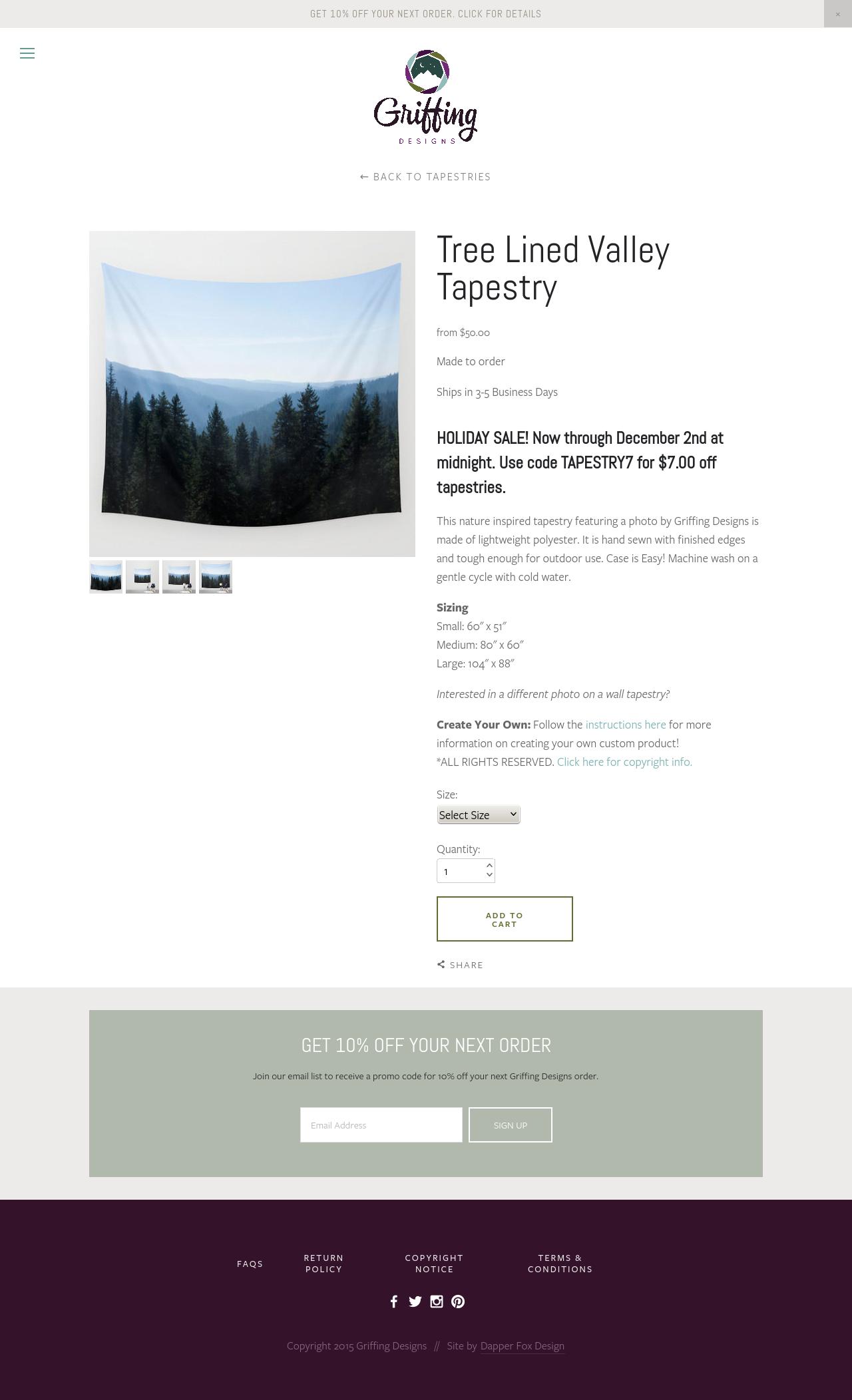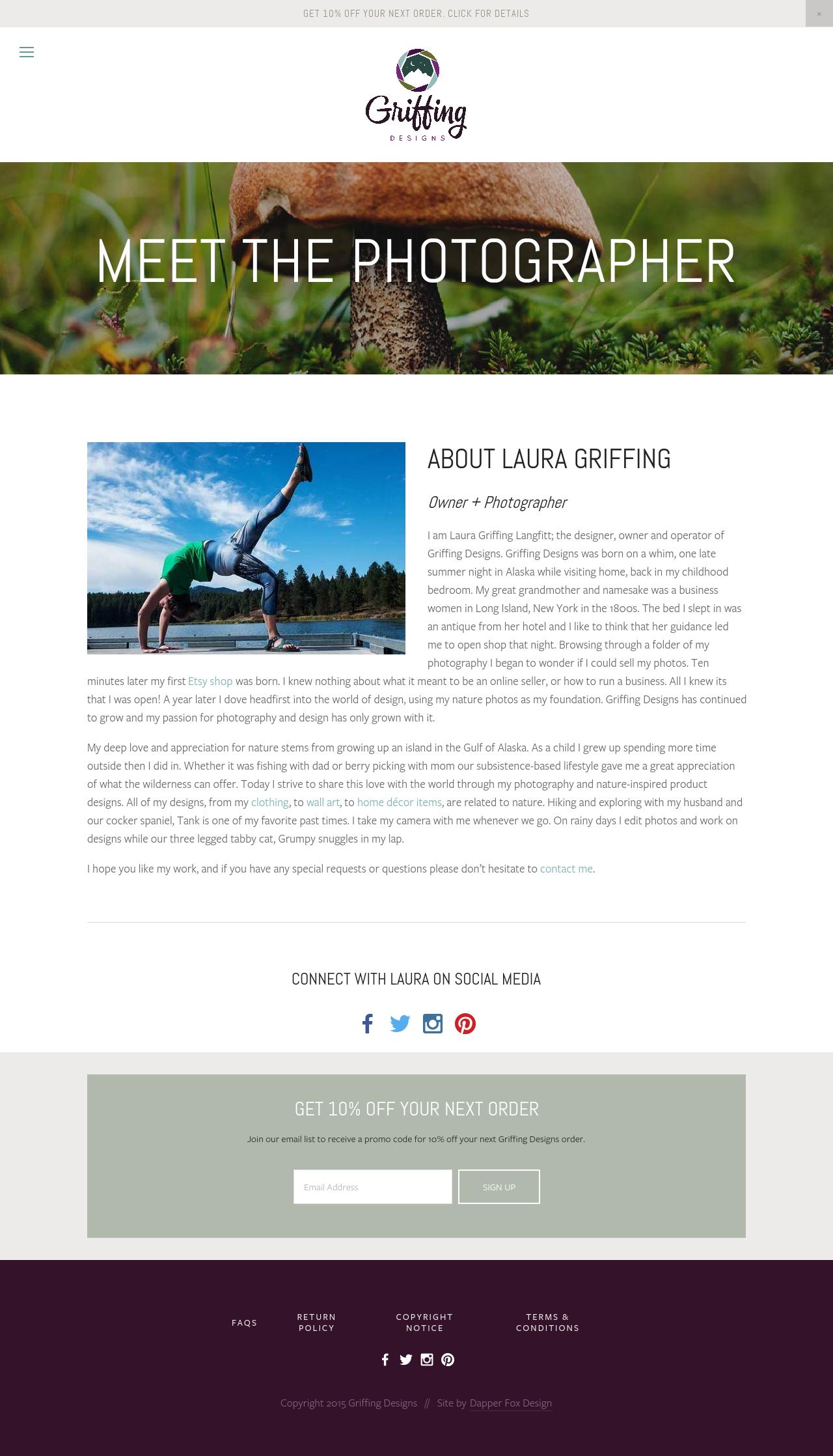 LAURA'S FEEDBACK ON THE PROJECT
"When I started working with Dapper Fox Designs I hoped to come out with a nature themed brand that was completely unique. Ali went above and beyond to make this happen. I wanted my audience to feel a love and connection to nature when they see my brand. I have always loved spending time outdoors, and appreciated the natural earth. When people see my brand I wanted them to feel that love as well. Ali took my tagline "nature reflected through a lens" and made it come to life in my logo. She also incorporated a bit of purple (my favorite color) seamlessly.
The amount of work that goes into creating a brand and website was unbelievable to me. There were so many steps that I would not have even thought of. Ali did a wonderful job walking me through these steps and not backing down even though the project turned out to be so much larger than expected.
The best part of the design process was seeing my brand come to life. I had always had a vision of what I wanted it to look like but did not have the design abilities to make it happen. Seeing the brand unfold was a truly amazing experience. I had a fantastic experience and will definitely work with Ali again if given the chance!"
- Laura Griffing Langfitt